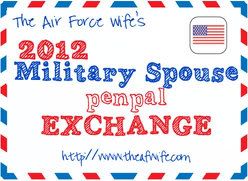 A little bit back, which seems like forever now, I signed up for the 2012 Military Pen-Pal Exchange hosted by Rachel at
The Air Force Wife
.
I excitedly contacted my pen-pal (Elizabeth over at
The Young Retiree
) and we exchanged addresses. We haven't really talked since we exchanged addresses. But I sent her a little note last week telling her a little about me and then some about J and I.
Today was a travel day for me. I was pretty bummed because who really wants to leave the beach?! But I quickly got very excited to find Elizabeth's letter in my mailbox!!!
I snatched it up and scurried back to my room to indulge in her letter! Yes, I indulge in letters much like other girls indulge in chocolate.
Anyway, I'm kinda in love with this gal already! She is from Norfolk, VA. Yay for some Virginia girls!
She told me about her dogs, which sound adorable by the way! She even sent me some cute pictures of her and her honey! Awe, why didn't I think of that?!
I suppose I can just send some pictures in my next letter... which I will probably write tomorrow. I'm sure a pen pal lover I write back right away. Oh well, I'm sure that life will eventually get in the way and not allow me to respond so quickly! But until then, I hope she is ready for my letters!