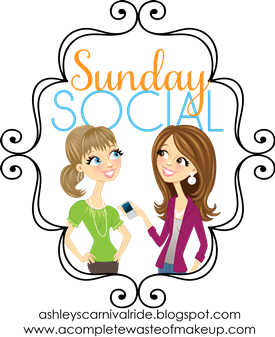 I am seriously loving these link-ups! S
o here goes Sunday Social with
Neely
and
Ashley
. Yay! I'm excited!
1. What is the first website you log on to each day?
I usually log into blogger.com first! I love to start my day by seeing what my bloggie friends are doing!
2. Give us some funny websites you visit that we need to know about
I don't really have any funny websites I visit. I'm fairly boring!
3. Pinterest or Facebook? Why?
Umm.. I do both, however I don't log on to either very much. I think each have their perks. I go to facebook to check in with my friends, but pinterest to get DIY ideas and recipes!
4. Twitter or Instagram? Why?
Before this week I would say Twitter, however I just got Instagram this week and I'm kinda loving it because I'm a total photo junkie!
5. Favorite youtube video...post it!
I absolutely love this guy and think he is so funny! This is one of his videos that is very funny and shouldn't hurt anybody's feelings!
6. Biggest online pet peeve?
Posting something and seeing a typo! I absolutely hate that! Then I feel compelled to go back and edit it to change the typo! I also hate when I want to do something online or to my blog but can't figure out how to do it!
I also noticed that I use a lot of
exclamation
points. That also kind of gets on my nerves. I'm going to try to change that! (I had to do it then.)