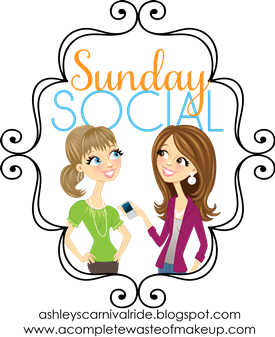 I'm here for another week of Sunday Social with Neely and Ashley to share our Halloween memories/favorites. It's just about Halloween, let's put it that way. So go visit their sites and see other peoples "Halloween"
1. What was your favorite halloween costume as a kid?(pictures??)
I think my favorite costume has to be when my friend and I dressed up as a salt and pepper shaker. Unfortunately I couldn't find any pictures of that, but I do have one of my mom, dad and I when I was much younger than the Salt and Pepper Halloween.
2. If you could go back and dress up as something what would it be?
The only thing I can think of is to dress as something warmer. I always remember being kind of cold if I didn't run from door to door.
3. Favorite costume as an adult?(pictures)
Hellen Back costume aka Angel/Devil. I wore both costumes the same year to different parties. I loved it!
4. Favorite Halloween Candy?
100 Grand bar. I don't eat this candy bar any other time in the year except Halloween, it is my ultimate Halloween candy!
5. Favorite Halloween Memory?
As a child, my favorite memory is going out trick or treating and then coming back and swapping candy so we all had what we liked.
As an "adult", I had the most fun in college dressing up and going to a party one night then roaming the campus on Halloween all dressed up. See adult pictures above.
6. Whats your favorite scary movie?
Hmm... I don't really have a favorite scary movie, but at Halloween I usually watch Practical Magic or Hocus Pocus. Although, to this day I've played Hocus Pocus two Halloweens, and still can't tell you the plot line except that Timothy McGee from NCIS is in it as a boy... That's pretty sad huh?!
Happy Halloween!