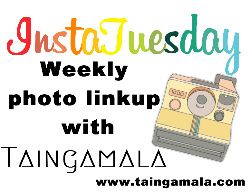 It's been a while since I have linked up with
Jane
, so I'm excited to share with y'all what I did this week.
Getting some Christmas wrapping done and out of the way early this year.
Mom and I on her birthday. We went out for frozen yogurt and she loved it!
I made some pumpkin chili. It was really yummy! Recipe to come, possibly with some pictures.
Last night was my first cake decorating class where I learned the art of making the star with tip #18. I think my cookies turned out pretty good. Blog on this also to come...
Now onto some Getting to Know Me November: Day 6
What is your favorite form of exercise?
I love to exercise. I feel so good after exercising and I especially love it when I step on the scales or can put on some old jeans that I have not worn in quite a while (I did that yesterday). So my favorite is probably going to group fitness classes at the gym. But now that I don't have a gym to go to, I think it is either yoga or Insanity. Although Insanity kicks my butt and I don't want to do it every morning, I get up and do it anyway because I love the results.
Come back tomorrow to see what my dream job is...