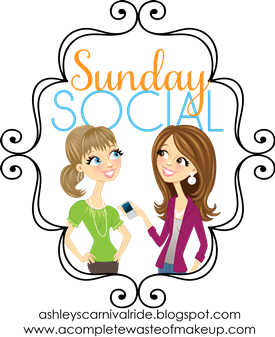 Link up with
Ashley
and
Neely
1. Favorite Holiday Movies/TV Specials?
I seriously watch this movie every Christmas. I love it so much. It is funny and sweet and has a little bit of suspense. It is really an all around great Christmas movie!
2. Do you do any volunteering during the holidays if so what? If not what would you do?
I don't do any volunteering, but if I did, I think I would volunteer to bake cookies for people or help wrap gifts. Though its probably good I don't volunteer to wrap gifts because I am not always amazing at wrapping. But I like the idea of that.
3. Favorite toy received as a Child for the Holidays?
Gosh, I don't really remember what my favorite toy was. I had a doll named Lisa Poo (apparently when I was a kid I liked the name Lisa and I loved Winnie the Poo so she became Lisa Poo) but I don't know that I got her for Christmas.
I do know that the year the first Ferbies came out and were all the rage I HAD to have one. Then shortly after it got stuck in the closet because it was so annoying. I can't believe they came back. At least they are slightly cooler this time.
4. What was your must have item in high school for the Holidays?
An iPod. I just had to have one because it was the cool thing to have. I'm sure there were some other things that I wanted, but they don't come to mind right now.
5. Item you begged for the most and never got?
I don't really recall anything that I begged for and never got. The one thing I didn't think I was going to get was a Keurig. I really wanted it last year and told my parents, but I said I knew it was expensive so I didn't expect to get it. But I ended up getting it anyway. It was such a surprise. I was so happy!
6. What do you do on Christmas Eve? If you are Jewish what does your family do for Hanukkah?
Every Christmas Eve, we go to my grandmother's house and exchange gifts with the family. It is a huge get together. We have about 35 people on that side of the family. We all bring food and sit around and eat and socialize. Then we play the Chinese gift exchange (or Dirty Santa... where you steal gifts), then finally exchange the real gifts. It is so much fun.
Finally when we get home, I usually open about 2 of my Christmas gifts from my parents then we go to bed. It's something about getting to open a few gifts on Christmas eve that makes it feel so special.