Throughout November, we bloggers tend to focus our posts around what we are thankful for. I have been getting into and finding more enjoyment in blogging past few months and also discovered another way to keep up with my stats. I kept thinking how I wanted to be thankful for blogging but didn't want to sound vain. But my pageviews and visits kept going up. I realized that I should be thankful to the bloggers that send wonderful viewers to me!
This month I want to send a huge thank you to Jen from
The Adventures of Our Army Lives
. I've been following her blog for a while now. She is such a kind-hearted person and an inspiration to me. She always brightens my day with her comments. I wish I had the privilege to know her in real life but I'm thankful to know her and have a friendship.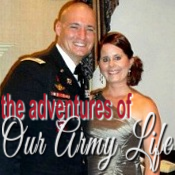 Another person I'm very thankful for is Katie from
Camo-Colored Chaos
. I'm so glad for our friendship and her letting me do
No Spend September
with her. I'm really looking forward to her new blog and following along in her adventures.
If you are interested in learning more about these wonderful ladies, click their links above or their buttons in the sidebar! Thank you so much Jen and Katie!