I always love giving John a little spotlight in this here blog, so today I'm here to share his answers to Boys Behind the Blog. I've asked him the questions and his answers are in
blue
with my responses directly under his answers. I also linked back to previous posts in case you want to check out what we are referring to. Thanks to
Mal
for hosting the link up and giving me another excuse to talk about my wonderful fiance!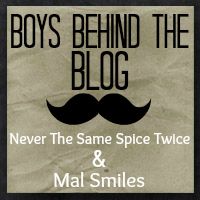 1. What is your favorite cereal?
I don't really know. I like cereal period.
We usually eat the off brand of Captain Crunch though that may be because that's always what I want...
Either one, I'm not picky.
He just doesn't want to eat them for supper!
3. What is your favorite holiday tradition?
I didn't have a holiday tradition growing up. I can imagine having one with Ashley where we open gifts of Christmas morning, eat breakfast and cuddle up to watch Christmas movies.
I'm really excited to start having our own way of doing things on Christmas.
4. Finish the sentence: All I want for Christmas is...
All I want for Christmas is... my fiance
Aw!
5. What was your best moment of 2013?
The absolute best moment was when I proposed to Ashley, second best was the Air Force ball this year.
I have to agree with him there. I would add a third being
Thanksgiving weekend
!
I also wanted to mention that I'm being featured on Katie's Chalk It Up to Better Luck series today on
her blog
! Please go check it out. You might get a good laugh or two!