We're back in the new year with another boy behind the blog with John. I really love this link-up with
Mal
and
Stephanie
, but I am particularly loving it this month because I've hard the hardest time coming up with topics to write about. It's so weird how one month you are full of things to say and write about (thanks Christmas posts, you left me with little for the new year!). Anyway, this isn't about me, it's about my ever so sweet and handsome John, so take it away honey!
John and I on New Year's Eve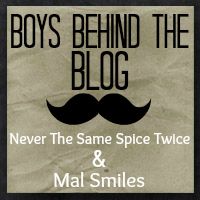 1. What was your favorite movie of 2013?
I didn't really have a favorite movie on 2013.
Personally I thought watching the Fast and Furious movie in the drive in was the best but he didn't think so.
2. What is your all time favorite movie quote?
I don't have a favorite movie quote.


3. What is your favorite type of movie? (Action, scary, comedy, etc)
I like a lot of different types of movies. Some of my favorites are Man on Fire, Black Hawk Down, The Lion King, Fox and the Hound, Forrest Gump...
4. What is your New Year's Resolution?
To try to make Staff [Sargent] and hopefully be married soon.
5. Finish the sentence: This year I will....
This year I will spend with my fiance. :)
Aw, I love him so much.