I honestly can't believe that it's already the 20th of February! Where does the time fly to? I feel like yesterday was just the first week of the month. But it's time for John to take over the blog again with Boys Behind the Blog.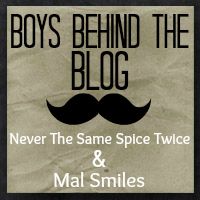 1. If you could live anywhere, where would you live?
Fiji, it's beautiful there and the houses are about the same as here in the US.
I asked why he chose Fiji and that was his full answer.
2. Sand or snow?
Definitely sand.
3. What Winter Olympic sport would you rock at?
I haven't watched the Olympics so I don't know what I would rock.
Can't say that I blame him there!
4. You're cooking a romantic dinner- what is your go-to dish?
Chicken Alfredo with garlic bread.
Ah, I love his Chicken Alfredo! I'll have to hint about this for our next anniversary!
5. Fill in the blank: This year, I gave Ashley a ____________________ for Valentine's Day?
This year I gave Ashley a surprise for Valentine's Day.
I still haven't gotten my gift yet, so it's still a surprise.