I've been in sort of a blogging rut. I don't have a whole lot going on in my life that's blog worthy at the moment. So I started to think about what's going on this month. Well the Super Bowl was Sunday and nope I didn't actually watch. I didn't really care to, oh well. I believe Sunday was also groundhog day. In other February news, Valentine's Day is coming up. Otherwise, I feel a little out of touch with the rest of the world.
In my own little world, my Pinterest account was hacked. I don't think there was too much damage done but the problem is all solved now. What would I do if I lost my Pinterest?! THE WORLD WOULD CRUMBLE!!! But seriously, I was browsing around to get some ideas about Valentine's day.
John and I don't do much for Valentine's day. I like the idea of the holiday but I think it's a little silly. I mean I don't really need chocolates, and flowers are nice but they just die. And although I would love some chocolates and flowers, I don't think I will actually get any. Plus we won't actually be together for Valentine's day. John's working weekends for the month of February so there isn't much use trying to schedule getting together with his funky schedule. I still wanted to try to get into the spirit of the holiday so I found some cute fun gifts for Valentine's day.
I know I have seen some other bloggers do this one but I couldn't help but share it. I think it's such a cute idea. John even agreed with me on this one.
Another one that caught my attention, especially because John just had his eye surgery
(I'm sure y'all are sick of hearing about it by now...)
is this one. I'm sure would be cute to hang up in our room our put somewhere in the apartment around this time of year.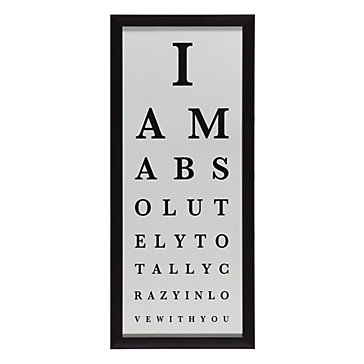 That's all the interesting Valentine's-ey things I've found so far, but I'm sure I'll come up with something and possibly make it this season!
Are y'all a fan of Valentine's day? Do you decorate or celebrate in any way?