I can't describe how honored I feel when y'all comment and send me e-mails. So when I got nominated for the Liebster Award twice in one month, let's just say I was over the moon. Thank you so much
Elizabeth and Janelle
! I can't explain how much joy it brings me knowing y'all like to read my blog.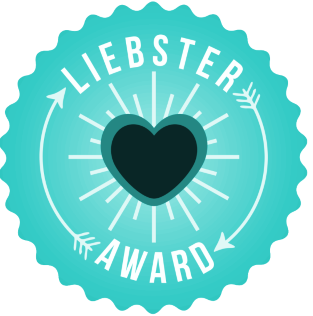 The rules of the award state:
1.
Post 11 facts about yourself.
2.
Answer the 11 questions created by the person who nominated you.
3.
Create your own set of questions for the people you are going to nominate.
4.
Choose 11 people (who have under 200 followers) to nominate, and link them to your blog.
5.
Let the people you've nominated let them know they've been tagged. No tag backs!
11 facts about me:
I recently did a post on
13 Things You Probably Don't Know About Me
, but I will try to come up with 11 different facts.
1. I love Mexican food. I usually go every Friday night, though I will miss it this week because I'm working.
Super huge sad face!
2. I'm half Irish and half German. I'm pretty proud of my heritage.
3. Speaking of being Irish, I would absolutely love to visit Ireland one day.
4. I hate the smell of seafood. It makes me sick to even get a whiff of it.
5. I love to bake, but you probably already knew that.
6. I love it when my dogs sleep in the bed with me. They don't always get to do it, so it's a very special treat for both of us.
7. I am kind of addicted to peanut M&Ms. I am popping them in my mouth as I'm currently typing this.
8. I love becoming addicted to TV shows. My summer favorite has been The Last Ship and as far as rerun shows go, I've really gotten into Castle.
9. I shared with y'all how I have a dream to sell baked goods to local restaurants, but I also kind of want to sell crafts too.
10. I have an addiction to candles. Luckily, John really likes candles as well. I can't seem to pass up a good deal on them.
11. I really hate shaving my legs. Kind of gross, I know. But I feel like as soon as I shave, I start to feel hair growing back.
Questions from Elizabeth:
1. What is your favorite 90s TV show?
Boy Meets World, or this crazy show where contestants had to run around a grocery store and try to get as many items on a list in a specific amount of time. I can't remember the name of it but I was fascinated by it as an 8 or 9 year old.
2. Diamonds or Pearls?
I think I lean more towards pearls, but I love diamonds as well.
3. What made you decide to start blogging?
I wanted to make friends and get support being a new military girlfriend (now fiance).
4. What is your favorite book?
This one is tough, I don't have just one favorite but I love mystery books like The Lincoln Lawyer series, The Chocolate Chip Cookie Murder series, and the Stephanie Plum series.
5. What is your hobby?
Crafting. I love doing anything crafty. I also like geocaching and postcrossing.
6. What are your best shoes you own?
This is a tough one because I own a lot of shoes. I would have to say this pair of black lace Guess heels would be my best.
7. Show us a picture of the best pet you've ever had!
That would be the two puppy dogs I have right now... Christy and Bo.
8. How many hours per week do you stay on Pinterest? Don't lie!!
Um probably around 5 or 6 hours per week. Is that bad? I used to be on it a lot more. But I have a feeling I will be on it much, much more as Christmas starts to roll around.
9. What is your favorite flower?
Daisies are by far my favorite flower.
10. What is your favorite farm animal?
This one is tough. I grew up looking at cows and pigs in the kitchen so I would say either one of those. Yes, my parents kitchen is decorated with cows, pigs and sunflowers.
11. Sweet tea or unsweetened tea?
Sweet tea, no contest!
Questions from Janelle:
1. What is the significance of your blog?
It is my creative outlet. It allows me to connect with other military spouses and wonderful people that I don't think I would have met otherwise.
2. Do you have goals for your blog, or do you just post on a whim?
I have goals for my blog now, but when I first started I would post on a whim.
3. What is your favorite type of cookie? (bonus points for recipe!)
I love chocolate chip cookies or oatmeal raisin cookies. My newest favorite chocolate chip cookie recipe is here.
4. Do you prefer baking or cooking?
5. What is the place you dream about living in?
I dream about living with John. But as far as a physical place, I would say realistically South Carolina and dreaming... Hawaii.
6. What is the best book you've ever read?
I don't like all these difficult book questions. I would say one of the best books I've ever read is The Five People You Meet in Heaven by Mitch Albom.
7. Do you enjoy DIY projects, or would you rather buy finished products?
I am a DIY girl all the way. I love putting something together myself. It's entertainment and relaxing all at the same time.
8. What was your favorite vacation destination?
I love Myrtle Beach, but I really want to go somewhere that has clear blue water!
9. Are you one of those people who is always early, on time, or late?
I tend to be more early. Sometimes I misjudge driving time and I get there on time, but I am never late.
10. How did you pick what you wanted to study in school?
I went to a lock in at the Science Museum in Richmond when I was in 5th grade and fell in love with science. It has always
fascinated
me.
11. Do you like sleeping in, or would you prefer to get up early to accomplish things?
I think it really just depends. I enjoy getting up early to specifically accomplish things. It makes me feel like my day is so much more productive. But when I have the time, I love to sleep in.
My questions:
1. What is the significance behind your blog name?
2. What is your favorite DIY project you've completed?
3. Favorite drink (alcoholic or not, your choice)?
4. What is your ideal house?
5. Have you been outside of the US? If so, where?
6. Are you a collector? What do you collect?
7. If you could live in any time period, which one would you chose?
8. What is your favorite book genre?
9. If you could meet any blogger, who would it be?
10. When you were little, what did you want to do?
11. If you could have any animal as a pet, what would you have?
I am going to nominate: