There is one word for Gone Girl and that is WOW!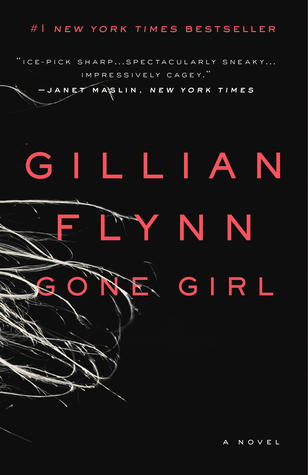 Gone Girl
Author:
Gillian Flynn
Rating:
4 stars
Picture:
Goodreads
Nick and Amy are celebrating their 5th wedding anniversary. Then Amy is gone. Just like that, Amy has disappeared and Nick is left to try to find out what happened to his wife. Evidence begins to mound against Nick. A web of deceit and poor decisions leads him to become the prime suspect in the police investigation. Things are looking pretty grim for Nick. But even though things look bad, did he really kill his wife?
Gone Girl by Gillian Flynn is full of twist after plot twist. Just when you are feeling so strongly about Nick, you learn more facts and your whole feelings change again. It definitely keeps you on the edge of your seat.
Nick, dear Nick. He's a good Midwesterner raised mostly by his mother who over protected him, the youngest child syndrome even though he is a twin. He overcompensates his jerkish good looks with an award winning smile that ultimately do more harm than good during the investigation if his disappeared wife.
Amy. The only child to psychologist parents who made her the star of the famous children's book Amazing Amy. She is quite the list making protectionist. Possibly a little too much of a perfectionist? Does this need for things to be perfect cause her husband to lose control?
Gone Girl is a book that will take you on a ride. Like being picked up by a tornado and not being put down until the very end. If you love a book that keeps you guessing and makes you sit on the figurative edge of your seat, this book is for you!