I honestly can't believe it's Wednesday again! Wednesday is quickly becoming my favorite day of the week (after the weekend and Friday of course because I get Mexican food on Fridays).
This week I am so excited to have another lovely co-host joining Katie, Shannon and I. She has been a blogging friend for a while. She and I have quite a lot in common seeing as she is an Air Force wife and currently braving Alaska! I love reading about her adventures, DIY stuff and listening to her cute Oklahoma accent! I'm sure y'all will fall in love with her too! So without further ado, I present Elizabeth from
The Blooming Air Force Bride
as our guest co-host for the week!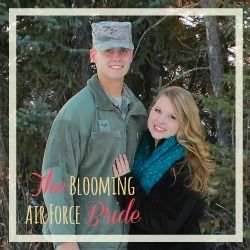 If you are new to the What's Up Wednesday linkup, you can check out what it's all about here!
Please check out Elizabeth on her blog and social media! I promise you'll be dying to follow her!
What I loved about this past week//
As much as I don't want to say the 7 inches of snow we got on Thursday, I did try to embrace the winter weather. I stayed cuddled up inside with my book most of the day but I did venture outside to make a snowman that evening!
Sorry about the quality of the snow pictures, my phone didn't like all the white!
My mom and I made a snowman and a snow dog. Let me tell you, I made the middle part of his body a little too big! Mom and I had to heave it up there and that was after chopping off some of the snow! I am a little rusty on my snow man making skills.
Christy and Bo loved the snow! They enjoy all the white stuff. It's like a treat for Christy. She will go outside and eat the snow until the cows come home! It irritates the crap out of the family because then we have to dry her off when she's ready to come back in.
Anyway, I did have a little fun with the fur thangs in the snow. We chased each other around and ran and jumped in the snow. They got very concerned when I fell into the snow and started flailing around (aka making a snow angel). They both came running, got in my face and stared at me as if asking if I was alright.
What I'm looking forward to//
Starting my job!!!! My official start date is tomorrow! I'm super excited. Although I'm guessing it will be at least a week before I see lab time, I'm still excited to start my big girl job (and get the big girl paycheck).
I'm also looking forward to running my 5k this weekend. I went for a run on Monday and totally crushed it (well for not having run over 6 minutes, I think I crushed it). Kilometer 4 and 5 were a little tough, but after having run for 20 minutes when I'm used to a few breaks to walk, I think I did an excellent job. I don't think my pace ever got below 11 minute mile.
What I'm daydreaming about//
Buying a house. I know I have a ways to go before I can afford getting a house of my own, but I feel like it could be soon with this new job. I looked at a few houses online and some of them are so cute! Of course this is a huge daydream because I want to get a new car first!
What I'm craving//
Homemade Japanese food! John's grandmother is from Okinawa and makes the best Japanese food. She grows all of her vegetables in her garden, she won't buy any produce from the grocery store. I absolutely love her miso soup, fried noodles and open face sushi.
What's Up//
I've been missing all my family down in Alabama! John's nephews are growing so much! I can't believe how big they are getting and I'm missing it! Here are the younger two, I'm not sure where there older brother is.
Alabama got nearly 13 inches of snow and John's mom didn't have anybody to go out and make a snowman with! It's really hard to believe Alabama getting snow!!! So that's about it for what's up.
Next week we will be featuring a few new questions so don't hesitate to join in!
What I loved about the past week//
What I'm looking forward to//
What my latest obsession is//
What I've been daydreaming about//
What I'm watching//
What I'm listening to//
What I'm craving//
What I'm doing this weekend//
What else is new//
Now it's your turn. Link up with us so we can see what you've been up to!